We have this Fair.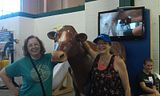 That picture is for
alexfandra


There are lots more pictures
here
. They include crafts, crop art, SPAM, beer and food. In particular bacon.
If you ever go to my Fair, I recommend the company of
1crowdedhour
and
carbonel
, as well as others WANOLJ, but I would go, too, if asked.
It is possible, I may have The Hat by this time tomorrow, and will be insufferable. You may thank
carbonel
, who witnessed the trembling lower lip of disappointment and Found One. xoxox