I decided, against any common sense, to participate in the Yarn Harlot's Olympic Knitting. I did it because I had so much fun last time, and because I underestimated how much I use my shoulder when I knit. Let me also say, colorful language may ensue, likewhat I blurted over the two stitches I dropped off the end of the circs when Johnny Spillane was sprinting for the end of the Nordic Combined. Olympic geek? Guilty as charged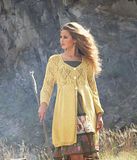 Here's a picture of the way Schachenmayr intends the pattern to look. Mine will be what my knitting pal SL - WINOLJ - has dubbed "McCorporation length", long enough to cover my ass. This challenge ratchets up once more. I tried to get this pattern from Schachenmayr, who referred me (after numerous emails) to their vendor stateside. In spite of a heroic effort, they were unable to assist and I finally went back to coats.de. I think I had to convince the woman I was dealing with that I didn't actually care if the pattern was in German, I just wanted to knit the darned thing. Keep in mind, if you will, that I am seriously metric challenged.
I'm not confident I will earn my medal this time around, but I will end up with a smashing cardigan.