We haz it.
12 degrees and blowing snow here. No real accumulation (3" isn't real here). Parking ramp is empty. Thank you, amateurs for staying home today, except you in the Red Versa? Get out of the left lane, please.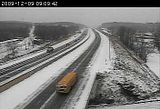 I understand Flagstaff had 26".
What's it doing where you are?