Saturday, we got up, drank strawberry tea, and headed out for breakfast with
celli. I was reminded that my knowledge of Chicago streets is no longer perfect or accurate and after some confusion on dales, we made our way to the Golden Nugget's triple something, with potato pancakes and eggs and ham. And coffee. Do not ask for non-dairy creamer in Chicago. Really. Every single time the waitperson looked at me as if I was from another ... oh, wait.

After breakfast, I promised
jenna_thorn downtown. We started at the Hancock.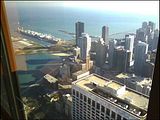 That's the view from the women's bathroom on the 96th floor. It's my current wallpaper if you're keeping track.

Since we were ON the Magnificent Mile, we window-shopped, and walked south to the river. In Filene's basement (found on the 4th, 5th and 6th floors) I was terribly disappointed with these boots. Sadly, not in my price range. Acrylic is apparently now a luxury fiber. I have proof.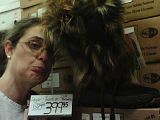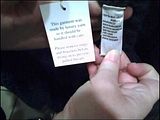 So, to make up for it, I kissed a moose.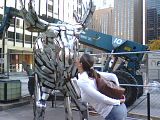 Also, we saw a droid in the wild, it might be my new phone. Finished up that leg of the trip in Boy's Town.



We shopped, and I'm not letting you see inside the discrete brown bag.

Stopped at Lutz Cafe for desserts, then dinner was at Superdawg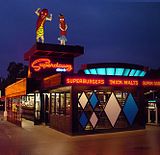 .

Sunday, all we really had time to do was to close up the condo, and feed our internet deprivation at Panera. I dropped
jenna_thorn off at the airport, and began the endless drive home. It was a great trip. I couldn't have had better company. Vacation is better.

I think I'm going to try duplicating the BBQ Pork fries this weekend. Wish me luck.